15 Dry fruit Desserts Your Kid Would Like to Wait For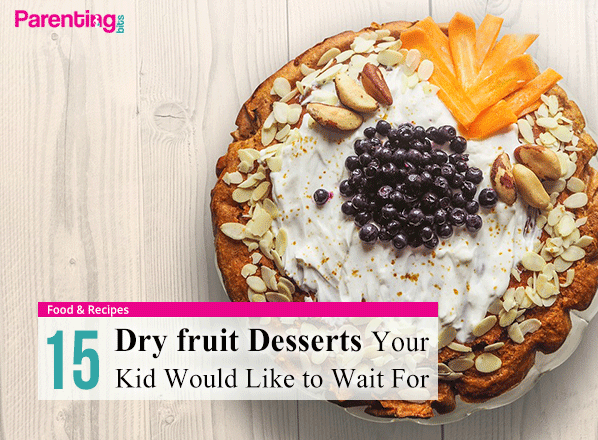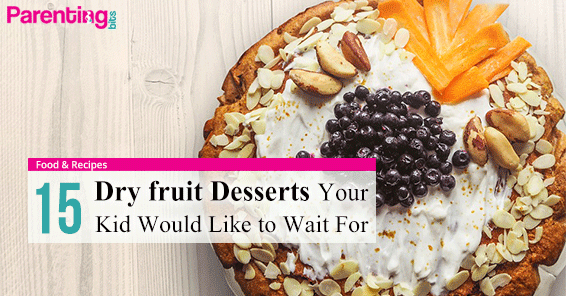 Desserts! The most awaited course in any meal. Kids are sweet and loving and they love all things sweet. It's pretty rare for a kid to turn down desserts. Here is a list compiled from many online recipes which can make sure that your kids are willing to wait for them mouthwatering, yummy, delicious goodness.
1. Dates and Nut Laddus
Prep time – under 15 mins
Cook time – under – 15 mins
Yields – 34 laddus
Ingredients:
Dates – 500 grams
Raisins – 1/4 cup
Honey – 2 tsp
Ghee – 2-3 tsp
Nuts:
Almonds – 1/4 cup
Pistachio -1/4 cup
Walnuts – 1/4 cup
Cashew nuts – 1/4 cup
For rolling the laddus:
Roasted sesame seeds as required – Roast sesame seed in low flame until it splutters. Switch off and leave it to cool.
Preparation:
1. Roast all the nuts separately in low or medium flame. Cool it and then ground it together a little coarse.(ground it in a mixie for 2-3 seconds and then smash it using a rolling pin. In the way the laddus are more delicious as you get to bite small bits of nuts while eating the laddus)
2. Heat a tsp of ghee and saute the raisins until they slightly puff up.
3. Buy dates which are soft and a bit sticky. Remove the seeds from the dates and grind it coarsely. Keep it aside.
Method:
1. Heat 2 tsp of ghee and saute the dates in low flame. Add honey, mix well and saute until the dates become soft.
2. Add the ground nuts, raisins and mix well.
3. Grease your hands with ghee and make small balls when the mixture is warm.
4. Roll the balls in roasted sesame seeds or dedicated coconut. (I prefer roasted sesame seeds). Store these balls in an air tight container and enjoy it. This laddu stays good for more than 10 days at room temperature if handled properly.
Taken from www.padhuskitchen.com
2.  Dry Fruits Milkshake
Prep Time – 10 minutes
Total Time – 10 minutes
Servings 2-3
Ingredients:
¼ cup almonds (badam)
¼ cup unsalted pistachios, shelled
¼ cup cashews (kaju)
¼ cup raisins (kishmish)
78 dates, chopped
23 dried figs, chopped
1 pinch saffron (kesar)
2.5 cups milk chilled
Soy or dairy milk
Sugar as required
A few dry fruits reserved from the above lot for garnishing either
Slice or chop the dry fruits.
Instructions:
1. If you want you can soak the dates and figs in water for a couple of hours.
2. The dried figs I used were soft enough to be blended easily, that's why I did not soak them. If they are dense and chewy, then do soak them. The same can be applied to the dates. If they are too dry or chewy, soak them. You can also soak the almonds, cashews and the remaining dry fruits if you want.
3. Then add the dry fruits to the blender and blend all the dry fruits in 1/2 cup milk.
4. Then add sugar and milk.
5. Blend well again. Stir and pour in glasses.
6. Garnish with a few dry fruits slices and serve dry fruits milkshake immediately.
7. Store these balls in an air tight container and enjoy it. This laddu stays good for more than 10 days at room temperature if handled properly.
Taken from www.vegrecipesofindia.com
3. Dry Fruit Parathas
Preparation Time: 10 mins
Cooking Time: 15 mins
Total Time: 25 mins
Makes 6 parathas
Ingredients:
2 cups whole wheat flour (gehun ka atta)
2 tbsp raisins (kismis)
1/2 cup sugar
1/2 cup chopped dry fruits
Oil for cooking
2 tbsp ghee
Method:
1. Combine all the ingredients except the raisins and dry fruits with enough water and knead into a soft dough.
2. Divide the dough into 6 equal portions and roll out each portion into 75mm (3″) diameter circle.
3. Place a tbsp of sugar and 1 tbsp of dry fruits at the centre of each circle.
4. Bring the sides together and seal the edges tightly.
5. Roll out again into a circle of 150mm (6″) diameter.
6. Cook on a tava (griddle) on both sides using butter till brown spots appear on both the sides.
7. Apply some ghee and serve hot.
Taken from ww.tarladalal.com
4. Dried Fruit and Noodle Dessert
Ingredients:
Dried egg noodles, 8 Ounce (Medium-Width)
Cream cheese,   8 Ounce, softened (1 Package)
Dairy sour cream, 1 Cup (16 tbs)
Butter   6 Tablespoon, softened
Honey   3 Tablespoon
Vanilla extracts   1 Teaspoon
Eggs 5
Dried mixed fruit 12 Ounce, diced (2 Packages, 6 Ounce Each)
Sugar 1 Tablespoon
Ground cinnamon 1⁄2 Teaspoon
Directions:
1. Preheat oven to 350°F.
2. Cook noodles according to package directions; rinse, drain and set aside.
3. Meanwhile, beat cream cheese in small mixer bowl until smooth and fluffy.
4. Beat in sour cream, butter, 1/3 cup sugar, honey and vanilla until well blended.
5. Beat in eggs.
6. Combine noodles and dried fruit in large mixing bowl.
7. Stir in cream cheese mixture until all ingredients are well combined.
8. Pour into well-greased 2-quart casserole.
9. Combine 1 tablespoon sugar and cinnamon.
10. Sprinkle over top of noodle mixture.
11. Bake 1 hour or until knife inserted near center comes out clean.
12. Cool on wire rack.
Taken from www.ifood.tv
5. Sticky Fig Puddings with Butterscotch Sauce
Ingredients:
250g soft dried figs, roughly chopped
300ml water
1 tsp bicarbonate of soda
100g unsalted butter, diced and softened, plus extra for greasing
250g soft brown sugar
3 eggs
250g self-rising flour
A pinch of ground cinnamon
Ice-cream or cream, to serve
For the butterscotch sauce:
100g unsalted butter
300g soft brown sugar
60ml brandy (optional)
250ml cream or water
Preparation:
1. Preheat the oven to 200C/400F/gas mark 6. Grease the 8 x 250ml coffee cups or moulds.
2. Put the figs into a large heavy-based saucepan with the water and bicarbonate of soda. Bring to the boil, then simmer over a low heat for 5 minutes, or until softened.
3. Remove from the heat, then stir in the butter until melted, add the sugar and stir until dissolved.
4. Lightly beat the eggs, then add them to the mixture with the flour and cinnamon, and stir to combine.
5. Pour into the prepared cups. Put the cups into a large roasting tray and pour in enough water to come halfway up the sides of the cups. Cover the tray with foil, sealing the edges well so the steam can't escape. Bake for 45 minutes.
6. To make the butterscotch sauce, melt the butter and sugar in a saucepan over a low medium heat, stirring until the sugar dissolves and the mixture bubbles. Remove from the heat and carefully stir in the brandy (if using). Return to the heat and stir in the cream until the sauce is a smooth consistency, then keep warm until ready to serve.
7. Turn the puddings out of their cups, pour the sauce on top and serve with ice-cream or a drizzle of cream.
Taken from Eat In by Anna Gare (Murdoch Books)
6. The Nut Cracker
Preparation Time: 5 mins
Cooking Time: 5 mins
Total Time: 10 mins
Makes 2 to 3 servings
Ingredients:
200 gms chocolate
50 gms chopped dry fruits
2 tsp cocoa powder
2 tbsp fresh cream
3 cups puffed rice (kurmura)
Method:
1. Combine the chocolate bars, mixed nuts, cream and cocoa powder in a heatproof bowl over simmering water, stir until the chocolate melts and get a smooth consistency. Remove from the flame.
2. Put the puffed rice in a bowl and pour in the melted chocolate mixture and mix well.
3. Divide the mixture into a equal portions.
4. Put the spoon full of mixture in a paper cases and place in the fridge until firm.
5. Serve as per required.
Taken from www.tarladalal.com
7. Tropical Rocky Road
Prep: 20 Mins
Cook: 5 Mins
Ingredients:
100g butter
100g golden syrup
200g dark chocolate, chopped
100g milk chocolate, chopped
100g coconut Nice biscuits
80g dried banana chips
100g dried tropical fruit (we used mango and pineapple), roughly chopped
50g Brazil nuts, roughly chopped
50g mini marshmallows
50g desiccated coconut
1 ball of stem ginger, finely chopped
Method:
1. Line a 20 x 20cm baking tin with baking parchment. Put the butter, golden syrup, chocolate and a pinch of salt into a saucepan. Set over a low heat and gently melt, stirring from time to time, until you have a glossy liquid.
2. Crumble the biscuits and banana chips into a large bowl, leaving some pieces larger than others to create a bumpy texture. Add the dried fruit, nuts, marshmallows, coconut and ginger, and pour over the chocolate mixture. Stir well, ensuring that everything is well coated, then tip into the tin. Use a spoon to press the mixture down and level the surface.
3. Chill for at least 2 hrs or until firmly set. Cut into 16 squares and pack for a picnic. Store it in a tin for up to 3 days.
Taken from www.bbcgoodfood.com
8. Badam Kheer-Almond Kheer
Prep Time : 10 mins
Cook Time : 30 mins
Serves: 3-4
Ingredients:
Milk – 6 cups boiled milk
Almonds/Badam -50 grams
Cashew nuts -25 grams
Sugar – 3/4 cup or as needed
Cardamom – 2-3 powdered
Saffron – 2-3 strands (mixed with a little milk)
Chironji/saara parupu -10 grams (optional)
Kesari colour – a pinch (optional)- mix it with a tsp of milk.
Method:
1. Soak almonds and cashew nuts in warm water for 2 hours.
2. Take 4 1/2 cups of milk and simmer it till it reduces to 2 1/2 cups.
3. Peel the skin of almonds and grind it with a little milk along with cashew nuts to a coarse paste.
4. Mix this paste with the remaining 1 1/2 cups of milk and cook till the raw flavour goes.
5. Now mix both the milk together, add sugar and simmer till sugar dissolves. Remove from flame.
6. Add cardamom powder, saffron and kesari powder.
7. Fry chironji in a tsp of ghee and add to the Kheer to give a rich and royal taste. It tastes better when cold.
Taken from www.padhuskitchen.com
9. Dry Fruit Balls for Toddlers
Prep Time: 15 mins
Cook Time: 5 mins
Total Time: 20 mins
Ingredients:
½ cup dates, pitted and chopped
¼ cup dried figs, chopped
¼ cup mixed nuts – almonds, cashews
¾ cup plain oats
¼ cup hot milk
Method:
1. Soak the dates and figs in hot milk for 1 hour.
2. Take out the pieces, leaving behind the liquid and grind to a puree. Add some liquid if the mixture is too dry. It's okay if the puree is coarse.
3. Roast the nuts and oats on a low flame for a few minutes.
4. Grind the nuts and oats to a fine powder.
5. Tip the powder into a bowl, and add a little of the puree. Mix together to form a slightly sticky dough, adding more puree little by little. Use your hands if a spoon isn't manageable.
6. Make small balls out of the dough and lay them out on a dish. Chill for at least 30 minutes.
7. Put each ball in little cupcake liners and arrange on a platter. Serve with a refreshing drink.
Taken from www.mylittlemoppet.com
10. Floating Balls in Custard Sauce
Preparation Time: 30 mins(excluding refrigeration time)
Cooking Time: 10-15 mins
Total Time: 15 mins
Ingredients:
1/2 ltr milk
2 tbsp custard powder
4 to 6 tbsp sugar
1/2 cup left over cake
3 tbsp dry fruits
8 bread slices
Method:
1. Keep aside 1-2 tablespoon of milk aside and make custard with the remaining milk. The custard should not be very thick.
2. Take the bread slices and cut it in rounds using a katori.
3. Use the milk kept aside, add half a cup of water to it.
4. Dip the bread rounds in it and squeeze out the water from it using your palms.
5. Now stuff it with cake crumbs and dry fruits and nake a small ball of it. Use remaing breads to make similar balls.
6. Now refrigerate it for about half an hour.
7. Add the balls to the prepared hot custard sauce and chill it before serving.
8. Garnish it with nuts while serving.
Taken from www.tarladalal.com
11. Khichdo
Cook Time: 25 mins
Recipe Servings: 4
Ingredients:
2 cups thuli (cracked wheat)
2 cups sugar
1 liter milk
4 raisins (kishmish)
4 cashew nuts
4 walnuts
4 almonds
1 tbsp ghee
Method:
1. Heat ghee in a frying pan and roast the wheat in it.
2. Stir till it becomes light brown in colour.
3. Add milk to it and let it boil till fully cooked.
4. Add sugar and keep stirring till it becomes thick in consistency.
5. Garnish with raisins, cashew nuts, walnuts and almonds. Serve.
Taken from www.food.ndtv.com
12. Chocolate Chip and Dried Fruit Pizza
Preparation Time: 15 Minutes
Cook Time: 40 Minutes
Ready In: 55 Minutes
Servings: 4
Ingredients:
Refrigerated chocolate chip cookies 20 Ounce
Diced dried fruit 1 Cup (16 tbs)
Coconut 1⁄4 Cup (4 tbs)
Orange juice 1⁄2 Cup (8 tbs)
Orange marmalade 1 Teaspoon
Vanilla flavored candy coating 2 Ounce, chopped
Oil 1 Teaspoon
Directions:
(Getting Ready)
1. Preheat the oven to 350°F.
2. In a 13 by 9 inch non-stick baking pan, press down the cookie dough.
3. Bake in the oven for 15 to 25 minutes or until lightly browned.
4. Take the pan out from the oven and allow it to cool.
(Making)
5. In a saucepan, mix together dry fruits, coconut and orange juice.
6. Cook the dry fruits mixture over medium heat, for 10 minutes or until dry stirring occasionally.
7. Take the pan away from heat and mix in marmalade.
8. Allow the mixture to cool, cover and place in refrigerator for 25 minutes or until completely cooled.
9. Place the cold fruit mixture over baked crust.
(Finalizing)
10. In a saucepan, heat oil over simmering heat and melt candy, stirring frequently.
11. Drizzle the canny mixture over the fruit mixture.
(Serving)
12. Cut the Chocolate Chip and Dried Fruit Pizza in squares and serve sprinkled with icing sugar if desired.
Tip: To give the pizza feel you can use 9 inch pizza pan instead of square baking pan.
Taken from www.ifood.tv
13. Fig Ice Cream
Preparation Time: 10 mins
Cooking Time: 11 mins
Total Time: 21 mins
Makes 6 servings
Ingredients:
1 cup dried figs (anjeer)
3 1/2 cups milk
1 cup condensed milk
1/4 cup milk powder
Method:
1. Combine the dried figs and 1½ cups of milk in a broad non-stick pan, mix well and cook on a medium flame for 11 minutes, while stirring occasionally.
2. Cool the mixture completely and blend the mixture till smooth.
3. Transfer the mixture into a deep bowl, add the remaining 1½ cups of milk, condensed milk and milk powder and whisk well till smooth.
4. Pour the mixture into a shallow aluminium container. Cover with an aluminium foil and freeze for 6 hours or till semi-set.
5. Pour the mixture into a mixer and blend till smooth.
6. Transfer the mixture back into the same aluminium shallow container. Cover with an aluminium foil and freeze for approx. 10 hours or till set.
7. Scoop and serve immediately.
Taken from www.tarladalal.com
14. Yogurt Cake with Dried Fruits
Minutes: 55
Servings: 4
Ingredients:
4 eggs
1 natural yogurt
3/5 kilograms sugar
237 milliliters oil
313 grams flour
1 teaspoon baking powder
450 grams dried fruit (finely chopped)
Directions:
1. Preheat oven to 180 degrees Celsius.
2. Grease a bundt pan with margarine, and sprinkle with flour. Set aside.
3. Whisk the eggs with the yogurt to a soft cream.
4. Add sugar, oil, flour, and baking powder, and whisk again until the mixture begins to bubble.
5. Finally, mix in the finely chopped nuts.
6. Bake for about 40 minutes. Check for doneness with a toothpick, remove from the oven, and unmold.
Taken from www.yummly.com
15. Gluten-free Teff Brownies
Minutes: 65
Servings: 10
Ingredients:
200 grams bitter chocolate (chunked)
200 grams butter
4 eggs
220 grams sugar
125 grams teff flour
100 grams dried fruit (or nuts)
Directions:
1. Preheat the oven to 180 degrees Celsius.
2. Place the chocolate in a microwave-safe bowl and melt it in the microwave. Alternatively, you can melt it in a double boiler making sure the top pot never touches the water of the bottom pot.
3. Separately, melt the butter the same way either in the microwave or in a double boiler.
4. In a large bowl, lightly beat together the eggs with the sugar. Then add in the melted chocolate and butter and mix to combine.
5. Sift in the teff flour and stir together.
6. Fold in the dried fruits or nuts.
7. Line a 25 centimeter by 25 centimeter baking pan with parchment paper and pour in the batter. Bake 40 minutes.
8. Pierce the center with a toothpick to make sure it comes out dry. Cool on a rack before serving.
Taken from www.yummly.com