6 Chicken Quick Bites For Your Baby Bees
7.00 AM- Wake them up, 8.00 AM make them board the school bus, 1.00PM receive them at home, 4.00 PM -soccer practice, violin class, ballet recitals, bake sales and every other extracurricular on their chart until they return home at night 8.00 PM- feed them dinner and put them to sleep. The rate of hustle a kid undergoes is nothing less than an employee! In this haste, kids lose out on a small yet significant part of their diet plan, the evening snack either due to lack of time or due to sheer boredom of eating the same nagging veggies!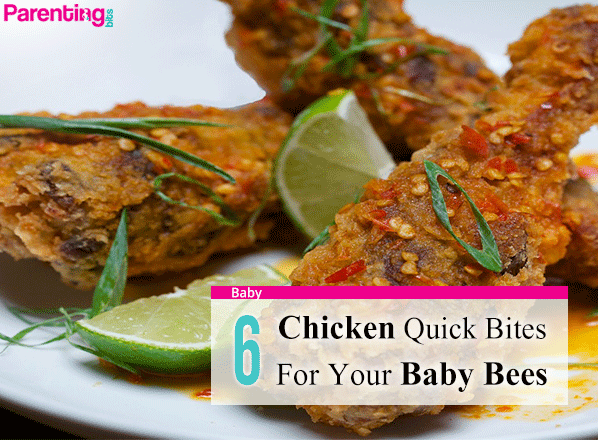 Let's lay down some facts here. You kid needs something small, handy, delicious with a capital D and the most important of the checklist- nutritious to eat as an evening snack. What else other than CHICKEN could fill in all the criteria?
So here are 6 easy-peasy Chicken Finger Bites recipes that your kid can enjoy while keeping up with his or her bumbling schedule!
1. Chicken Cutlet with Yogurt Dip
Remember that flashy looking frozen chicken with compelling ads that make your children jump with water in their mouth? Yes! That is exactly what this recipe is, minus the tasting salts and the "god knows how long they have been frozen" thought. The healthy protein of the chicken coupled with the creamy goodness of the yogurt is exactly what your kid would like as an appetizer or an evening snack or in his mid-day munch at school!
Ingredients
200g chicken breast fillet cut into 3 cm pieces
1 egg, lightly whisked
45g corn-flake crumbs
Olive oil spray
Sweet chilli sauce, to serve
Instructions
Preheat the oven to 200 C
Dip the chicken into egg and the corn-flake crumbs successively.
Put baking paper on the oven tray and place the chicken pieces.
Spray oil of your choice and cook for 10 to15 minutes
Serve with a dressing of your choice.
2. Baked Coconut Chicken Tenders
As parents, your first art to master is to hide nutritious food which is often tagged "yuck" by your kids in more tasty food substitute. One such food is coconut and me as a child used to hate it! Here is one recipe to all those moms who can add coconut as an outer layer to the chicken tenders. What's more? It's baked! You can now check the "no excessive oil" box off your nutrition chart!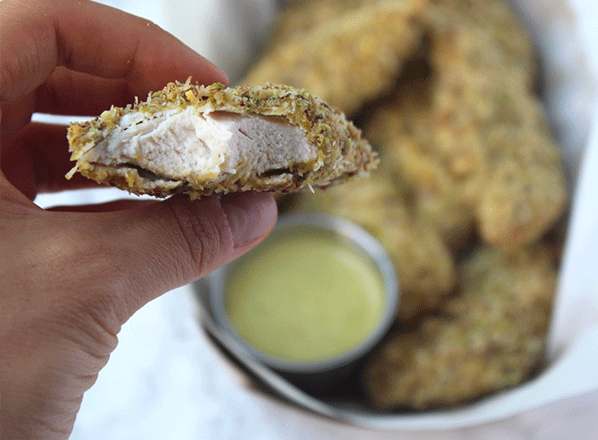 Ingredients
2 large eggs
2 table spoon garlic powder
1 table spoon salt
½ table spoon ground black pepper
¾ cup panko bread crumbs
¾ cup shredded sweetened coconut
1 pound chicken tenders (about 8 tenders)
cooking spray
Instructions
Preheat oven to 200 Celsius. Spray a large baking sheet with the help of cooking spray.
Add eggs, garlic powder, salt, and pepper to a dish to make the batter and mix panko breadcrumbs and shredded coconut for the crust in another dish.
Coat the chicken first in the egg batter, let the excess drip off and place it over the coconut mix. Place the chicken on the oven tray and spray oil.
Bake on the middle rack of the oven until the tenders turn brownish. (12-15 minutes)
3. Cornflake Chicken Tenders
Another NO on your kid's list is corn. But yes, moms always lament that kids are missing out on the corn and its fiber. But here is a simple recipe. marinade chicken in a buttermilk batter for 4 hours, and then into a baked cornflake, onion, paprika and bake until cooked!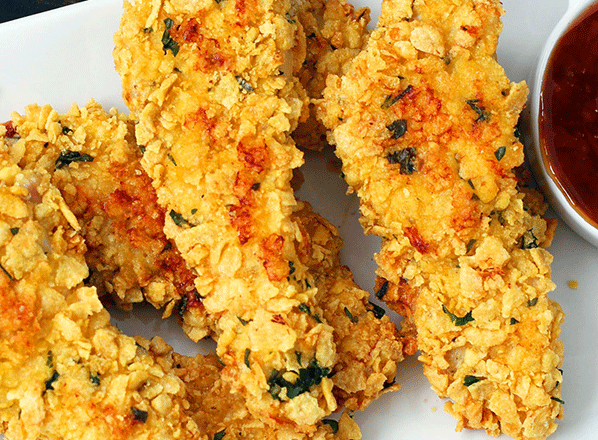 Ingredients
1 and ¼ pounds chicken tenders/boneless skinless chicken breasts cut into strips
¾ cup buttermilk
4 cups of corn flakes
1 tsp of smoked paprika
¼ tsp onion powder
1 tsp of sugar
¼ tsp of salt
¼ tsp of pepper
cooking spray
Instructions
Pour the butter milk in a bowl; season generously with pepper and salt .
Add chicken to buttermilk and stir to coat. Marinate for at least 30 min or up to 4 hours.
Put the marinated chicken pieces into crumb mix made of cornflakes, smoked paprika, onion powder, sugar, and salt.
Place it on the oven tray, spray with cooking oil.
Bake for 10-15 minutes.
4. Mango Chicken Lettuce Wraps
Another greeny that kids shove away- the infamous lettuce! But they never reject mango and obviously, chicken, the hero of our topic today. Cook chicken pieces, mango chunks, onion, and lime juice together, assemble them in a wrap made of lettuce and there you go!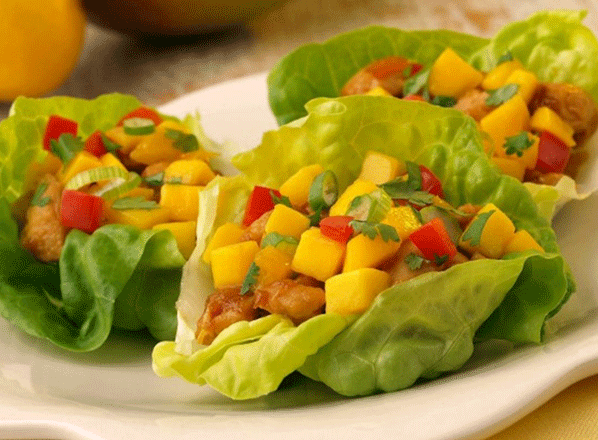 Ingredients
For the mango chicken:
1 1/2 tsp of avocado oil/olive oil
1 pound chicken breast, trimmed
1/4 tsp turmeric
1/4 tsp of garlic powder
1/4 tsp cayenne
1 large ripe mango, cut into 1-in. chunks
2 tsp of lime juice
1/2 of a thinly sliced red onion (about 1 cup)
pepper and salt for taste
For the wraps:
Bibb or romaine lettuce for wraps
1 cup of thinly sliced carrots
1 large thinly sliced zucchini and cut into 3-inch pieces
optional for topping: cilantro,lime juice, extra slices of fresh (uncooked) mango.
Instructions
Heat oil in a skillet pan. Add chicken, top it with turmeric, garlic, and cayenne. Cook until reddish brown.
Add in the mango chunks, lime juice, onion and stir together. Cook for an additional 5 minutes.
After getting cooked, cool the chicken and cut it into thin slices.
Put in zucchini on the lettuce, top it with the mango, chicken mixture and add lime zest for taste.
5. Pesto Chicken Veggie Meatballs
Another baking chicken dish, only this time veggies like zucchini, carrot, and bell pepper are hidden by pesto and salt. Toss the chicken and the vegetable mixture and bake! May the yummy chicken hide your kid's peeves! Amen!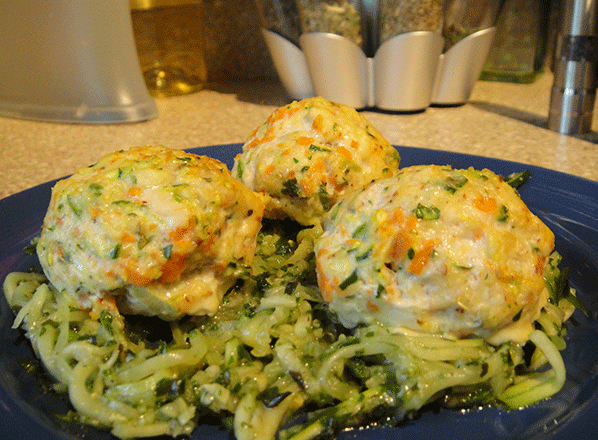 Ingredients
1 pound chicken breast
1/2 red bell pepper- medium
1 carrot- medium
1 cup of chopped Zucchini
3 tsp Pesto
1/2 tsp Salt
olive oil in your Evo Oil Sprayer
Instructions
Preheat the oven to 375 degrees.
Add zucchini to minced carrot and bell pepper. Season with pesto and salt. Stir.
Fold the chicken breast into balls, combine with the mixture to season the chicken.
Spray baking sheet with oil and place the chicken balls.
Bake at 375 degrees for 10 minutes. For a bit of browning, broil the meatballs an additional 1-3 minutes. If browning isn't so important, continue baking meatballs for another 2-3 minute, or till cooked through.
Serve with your favourite pasta,sauce, or on a sandwich. Enjoy!
6. Chicken Popcorn
Simple and superb is how you can describe chicken popcorn. It is easy to eat, pack and to make! Make a batter of flour, egg, salt and seasonings that you want, dip small chicken tender pieces and deep fry them. Dry them on paper towels and serve with sauces!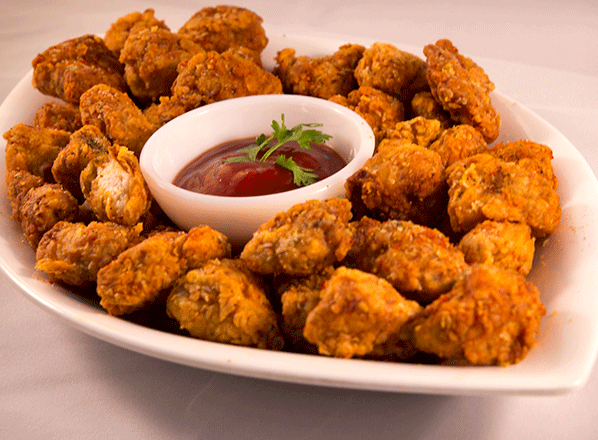 Ingredients
2 eggs
1 table spoon hot sauce
1 table spoon Worcestershire
2 table spoon buttermilk
1½ lbs chicken breasts, cut into nuggets
½ c. panko (regular or whole wheat)
1½ c. all-purpose flour
3 table spoon cornstarch
¾ table spoon baking soda
1 table spoon seasoned salt
2 table spoon black pepper
2 table spoon paprika
¼ table spoon cayenne pepper
½ table spoon garlic powder
1 table spoon onion powder
2 table spoon buttermilk
cooking spray/oil (olive or grape seed)*
Instructions
Preheat oven to 425 C, line a baking sheet with the help of parchment paper, set aside.
Pour eggs, hot sauce, Worcestershire and buttermilk in a dish and whisk. Coat the chicken pieces generously with this mixture,
combine the flour, cornstarch, panko, baking soda, black pepper, seasoned salt, paprika, cayenne pepper, onion powder and garlic powder. Add the 2 tsp of buttermilk and shake well to create crumbs.
Coat the chicken with the bread crumbs, then the egg wash and again the bread crumbs
Place in the oven and bake for 15-20 minutes or until browned and the chicken reaches an internal temperature of 165 C. Remove and serve immediately!