7 Chicken Dishes for a "Cool" Kid's Lunch Box!
For your school going kid, lunch is not just a meal. It's the hour that he or she has been waiting all day long! It's the meal that the mice in his tummy are waiting to devour! It's a status symbol to show off how "cool" his or her lunch is! So, time to buckle up and make that box look as appealing as possible. If disappointed, your kid is going to unhappily eat which is psychiatrically dangerous (or so they say!).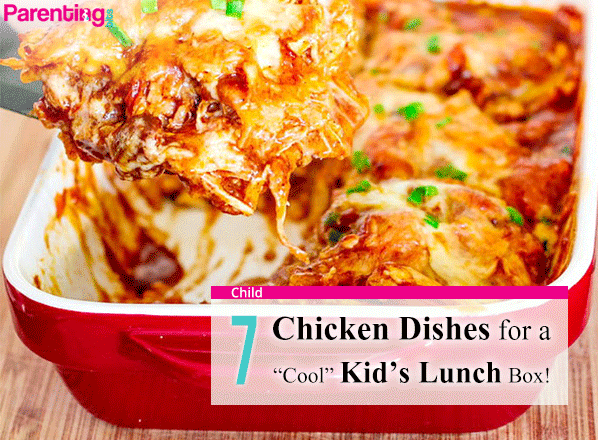 Here are 7 chicken dishes to increase the "Cool" quantum of your kids lunch box!
1. Chicken Pot Pie Crumble
Did the temperature in your area begin to drop? Did winter set in? to suit your environment, here is a tummy warming chicken recipe. This is the tweaked version of chicken pot pie and takes half the time to make. Use the traditional pot pie recipe (can easily be found online) except the pie crust part and top it with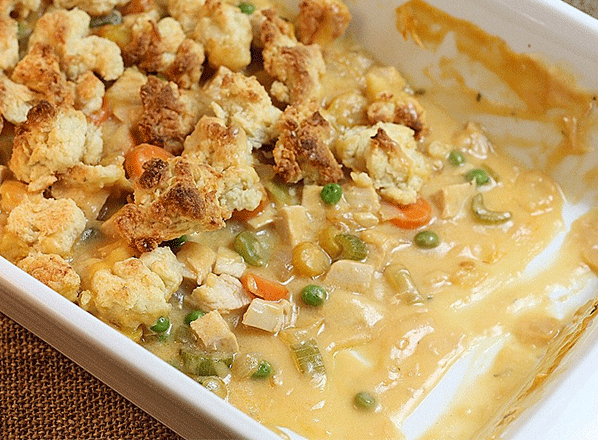 This is the tweaked version of chicken pot pie and takes half the time to make. Use the traditional pot pie recipe (can easily be found online) except the pie crust part and top it with yummy biscuit like crumble.
Ingredients
20 oz. boneless skinless chicken breast halves (about 2 large)
1 (14.5 oz) can low-sodium chicken broth
1 Tbsp olive oil
1 cup peeled and diced carrots (about 2 large carrots)
3/4 cup diced celery (about 2 large stalks)
3/4 cup finely diced yellow onion (about 1/2 medium onion)
2/3 cup frozen peas
3 Tbsp butter
1/3 cup all-purpose flour
3/4 cup milk
1 tsp lemon juice
1 1/2 tsp dried parsley
1/4 tsp dried thyme or rosemary
For the crumble:
1 1/2 cups all-purpose flour
1 1/2 tsp baking powder
1/2 tsp salt
1/4 tsp freshly ground black pepper
1/4 tsp garlic powder (use 1/2 tsp for a slightly stronger garlic flavor)
1/8 tsp cayenne pepper (optional)
1/4 cup butter, cold and diced into small cubes
2 oz. finely shredded Parmesan cheese (about 1/2 cup packed)
3/4 cup + 2 Tbsp heavy cream
Directions
Place chicken in a slow cooker, pour chicken broth over chicken. Cover with lid and cook on low heat about 5 – 6 hours until chicken is cooked through. Remove chicken from slow cooker, dice and set aside. Strain broth from slow cooker through a fine mesh strainer into a bowl and reserve broth (if you don't have a fine mesh strainer just try to remove the pieces of fat).
2. Bang Bang Chicken
"Mom what's for lunch?" howls your kid, imagine yourself saying "its BANG BANG CHICKEN!". How fun and exciting does that sound! It surely is, because it takes less than 30 minutes to be put together.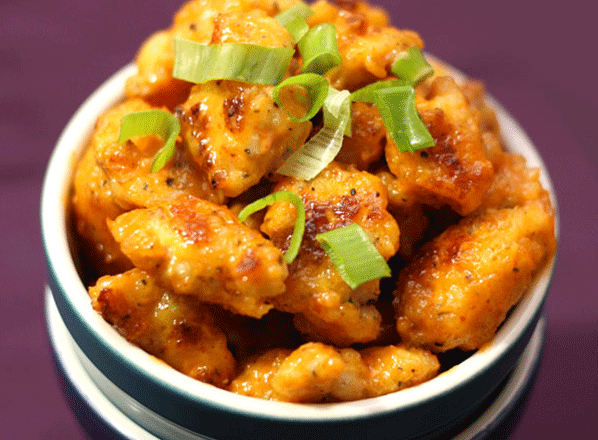 PC : tablefortwoblog
Like any other batter dip and skillet fry chicken, this dish's batter needs buttermilk, flour, corn starch, egg, hot sauce, salt and pepper. Dunk the chicken into the batter, dredge it in Panko- a Japanese breadcrumb or any breadcrumb of your choice, skillet fry it and have a "BANG BANG" dinner!
INGREDIENTS:
1/2 cup vegetable oil, or more, as needed
1 cup buttermilk
3/4 cup all-purpose flour
1/2 cup cornstarch
1 large egg
1 tablespoon hot sauce
Kosher salt and freshly ground black pepper, to taste
1 pound boneless, skinless chicken breasts, cut into 1-inch chunks
1 cup Panko*
FOR THE SAUCE
1/4 cup mayonnaise
2 tablespoons sweet chili sauce
1 tablespoon honey
2 teaspoons Frank's Hot Sauce
DIRECTIONS
For the sauce, whisk together mayonnaise, sweet chili sauce, honey and Frank's Hot Sauce in a small bowl; set aside.
For the batter, whisk together buttermilk, flour, cornstarch, egg, hot sauce, salt and pepper, to taste.
Working one at a time, dip chicken into buttermilk mixture, then dredge in Panko, pressing to coat.
Cook chicken in heated oil until it turs brown (3-5) minutes.
Serve immediately with sauce.
3. Cashew Chicken
Is your kid the type who gobbles up all the cashew nuts in the biriyani? Then here is a perfect dish of chicken coupled with cashews and some vegies hidden in the gravy! Their love for cashews will draw them to the dish like a charm.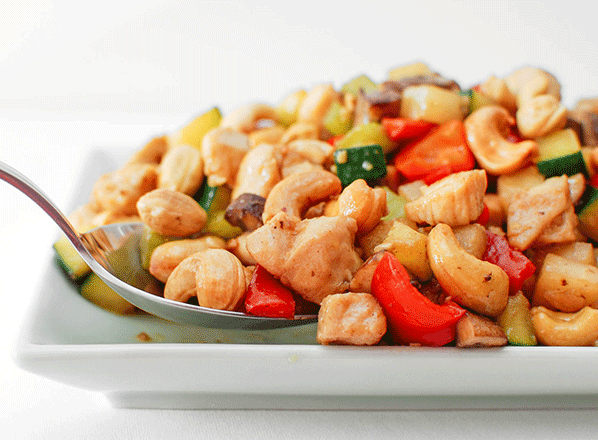 PC : seriouseats
It takes twenty minutes to make and hence brightens your dinner table for your kid even on a busy weeknight!
Ingredients
2 boneless, skinless, chicken breasts, chopped into 1″ cubes
¼ cup flour
¼ teaspoon salt
¼ teaspoon pepper
1 tablespoon ketchup
2 tablespoons soy sauce
1 tablespoon rice vinegar
⅛ teaspoon sesame oil
1 clove garlic, minced
1½ tablespoons brown sugar
⅛ teaspoon ground ginger
½ cup cashews, dry roasted
canola oil
Instructions
Place the flour, salt and pepper in a bowl and toss with the chicken.
Heat oil on a pan. Add the chicken and brown on each side for about 2 minutes.
Meanwhile, in a small bowl, whisk the ketchup, soy sauce, rice vinegar, sesame oil, garlic, brown sugar and ginger. Pour over the chicken in the pan and turn the heat to medium low. Allow to simmer for another 2-3 minutes or until thick and the chicken is cooked through. Toss the cashews in and serve over rice.
4. Chicken and Cheese Sandwich
Can any parent get classier than this? Nope. Can't. Just put a dash of ingredients like mayonnaise, olives, lettuce and whatnot together with the chicken, stir them well. Put the stuffing between cheese slices and bread.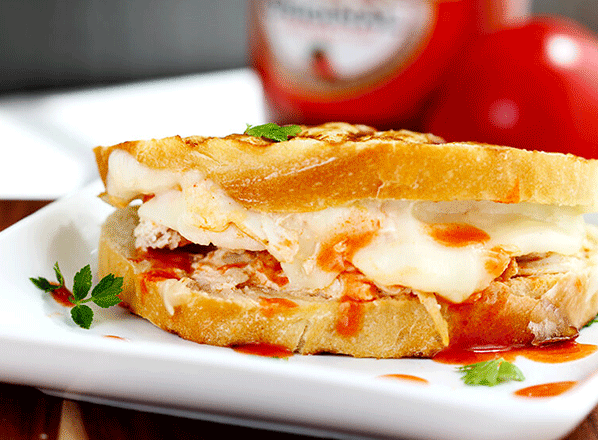 Grill it in the oven and say bye to hunger!
5. Chicken Schnitzel
Healthy way to eat chicken without extra calories that can hinder their limb growth. No fat but just enough carbs and fibres win the way of bread. Make thin fillets of chicken, coat them with egg and cover them in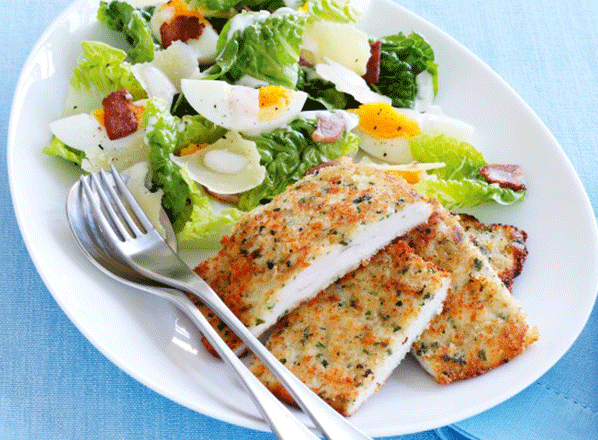 PC : taste
Make thin fillets of chicken, coat them with egg and cover them in thin breadcrumb. Spray them with olive oil and bake! Serve it with a crispy garden salad and this will be the breakfast that your kid will crave for!
Ingredients
2-4 chicken breasts
1 cup plain flour
Salt and pepper
2 eggs
1/2 cup milk
1 cup breadcrumbs
Vegetable oil for frying
Instructions
Season the flour with salt and pepper and leave it aside.
Beat the eggs and add milk to it. Whisk well.
Slice the chicken breast into 4 thin slices.
Beat the slices to an even thickness by placing a cling film over it.
Coat each piece of chicken in the flour and then dip into the egg mixture,
Then finally coat the chicken with crumbs and shallow fry until they turn golden brown
Drain on a paper towel and serve with lemon wedges.
6. Lunch Box Kebabs
As parents, we have one task that we must excel no matter what- LUNCH. It should be colourful, tasty and nutritious. Here is one such lunch box recipe that your kid can show off to his or her friends and eat healthy in the process.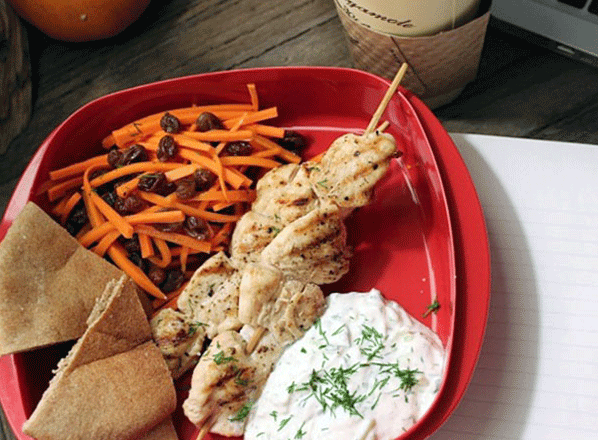 PC : seriouseats
These long sticks of kebab with fruits, cheese and baked chicken is eye candy to kids and a satisfying protein carrier for parents.
Ingredients
Horizon Cheesesticks, cut into 1/2″ pieces
Cooked chicken breast, cut into 1″ chunks
Blueberries
Grapes
Cocktail straws for skewers
Instructions
Alternate items onto skewers leaving enough room at the ends to hold. Refrigerate or keep in cooler/lunchbag until serving.
7. Crispy Parmesan Crusted Chicken
Chicken and cheese! The ultimate protein combo that your kid can relish at any given point! Marinade the chicken with salt and pepper.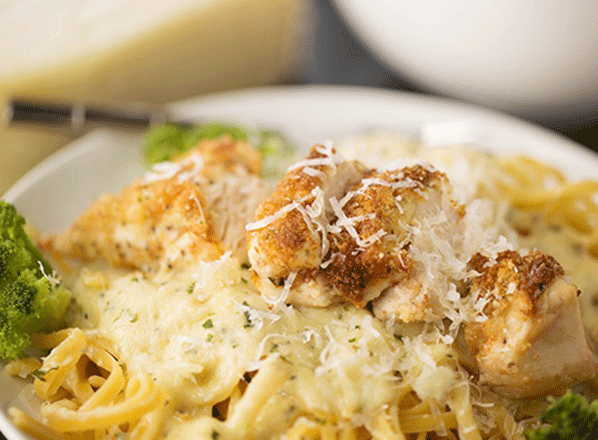 Now begin the frying. Dip the chicken in to parmesan, fry it well, follow the same for eggs and bread crumb. This can be the tranquilizer to your tantrum throwing kid on a cranky evening.
INGREDIENTS
5 Chicken breasts, boneless, fat and skin removed
1 cup panko bread crumbs
Two thirds cup grated parmesan cheese
3 tablespoons minced parsley
1 teaspoon salt
¼ teaspoon pepper
¼ cup melted butter
3 tablespoons fresh lemon juice
2 garlic cloves minced
INSTRUCTIONS
Preheat oven to 350 degrees.
Mix the bread crumbs, parmesan cheese, parsley, salt, and pepper together and set aside.
Mix the butter, lemon juice and garlic together in another dish and set aside.
Dip both sides of the chicken in the butter mixture – coating it well.
Quickly, place the chicken on the bread crumb mixture and toss the crumbs up over the edges and top of chicken breast using either your hands or a spoon. Then gently press the chicken so the crumbs on the bottom side stick to the chicken. Now turn the chicken over and again press that side into the crumbs.
When all chicken is prepped, bake for 40 minutes or until a meat thermometerreads 165 degrees when inserted in the thickest part of the chicken breast.