Mom Opens Breastfeeding Lounge: First Purpose Built Breastfeeding Cafe
A mother in the UK has reportedly set up a first-of-its-kind Breastfeeding cafe – with designated private booths for breastfeeding, and offering the services of a full-time nursing advisor, along with serving up special treats like lactation cookies – making this place a one of a kind experience out in the world where mothers since time immemorial have faced the problem of feeding their baby while outside of the confines and comfort of home.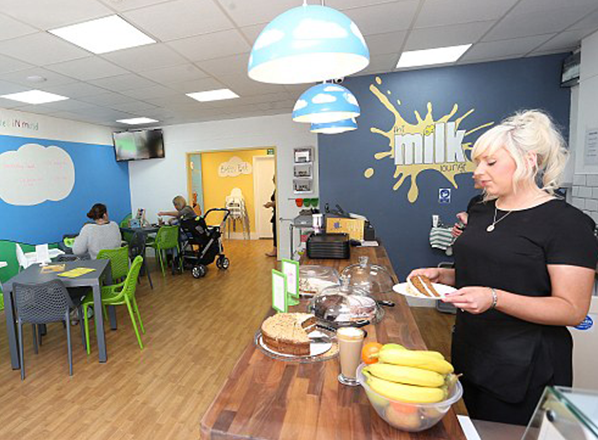 PC: dailymail.co.uk
Charlotte Purdie, all of 22 and a young mother herself, has shown her skills at recognizing this prominent problem and has turned it on its heels by opening The Milk Lounge in Arnold, Nottingham after she continuously faced problems and struggled to find a place in public to breastfeed her child. The mother of the one year old Bobby is very much satisfied as she sees her efforts being brought to light. Charlotte says that the initial idea had come to her on the first day of her honeymoon, and after ringing the bank in the hopes of getting funding, she finally got £25,000 in investment after reaching out to a couple of funding bodies. After getting her husband to take some time off of his work, as she was a young mother herself – she focussed on the business model of what could go on to become UK's first purpose-built breastfeeding cafe.
Originally hailing from Old Basford, Nottingham,Charlotte has mentioned in her interviews that her idea was laughed off as crazy when she first introduced it. But she didn't lose hope in it, and started researching about the birth-rate in her area, and the corresponding breastfeeding rate as well – and as a result The Milk Lounge  was established. Since then, word-of-mouth has spread and she has seen her success come her way in the form of idea becoming a credible business.
But as they say, success has to be taken with a grain of salt. Since the opening, a few skeptical members of the society who do not feel positive about her idea have called her and left telephonic messages, threatening and abusing her and her work. When the cafe opened on Wednesday of last week, not hours had passed with constant footfalls of young mothers trying to assess the place than the abusive and threatening phone calls started to ring. There is no solid explanation to why the certain faction is against her idea, but they sure don't shy away from letting her know their animosity while they are at it.
But Charlotte decided to focus more on the positive support that she got from the public, rather than the life threats in the middle of the night. The cafe is surely worth it, not only does it cater to the young breastfeeding  mothers (despite they being the main reason of opening up a place like this) but also opens the doors in a welcoming manner for both fathers and the families, so they can enjoy the perks of spending time at her cafe.
It is widely known that mothers can choose to breastfeed their children at tables be it at any establishment, but what she offers as unique selling proposition for the cafe are the private booths and a warm welcoming environment of universal understanding that as a young parent – she knows how isolating the experience can be at a public place.
And keeping in tune with her success, she ends in a happy note, saying ' Despite the abusive phone calls we' been busy with new mums and dads, older people and everyone else from the community who is supporting what we are trying to do'. And we say, go girl!
Source : Daily Mail UK / dailymail.co.uk.