Coldplay's 'Fix You' Gets Autistic Boy Emotionally Overwhelmed: It's Beautiful As Tears Stream Down
The video of little Huilo, moving into tears in Coldplay's live concert is taking the internet by storm, its going viral. Wondering why? Read on.
Luis Velaque, father of Huilo, captured the first live concert experience of his autistic son, it was the little guy's favourite band Coldplay performing in Mexico City at the Foro Sol stadium.
What makes the video stand out from those millions shared on YouTube, is Huilo's emotional journey through "When you try your best, but you don't succeed", Coldplay's one of those sure shot tearjerkers, 'Fix You'. The little boy starts sobbing uncontrollably as the song starts to build.
Luis, posted the video on YouTube with the message: "Something my wife and I decided to share with the whole wide world. You have to watch it! It says it all! You guys #coldplay please need to see this!"
The video has already got more than 2.2 million views.
And of'course, how can Coldplay not get a wind of it. On their official Twitter account with 16.9 million followers, Coldplay shared the same video with the caption "This kind of thing makes it worthwhile"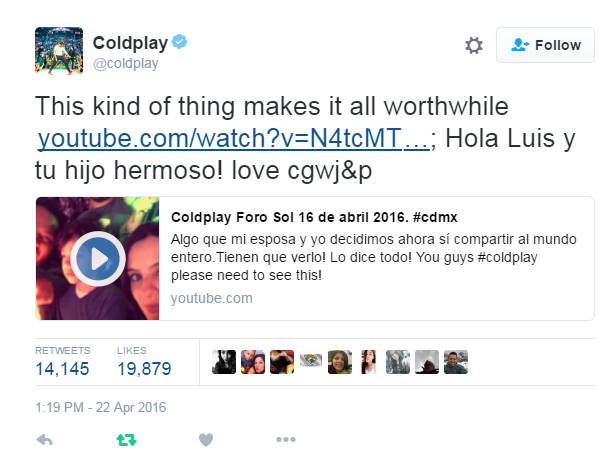 Keep fixing all of us like this Coldplay!