7 Chicken Tummy Fillers For your Picky Eaters!
Heraclitus once said "Change is the only constant of life" and kids these days apparently took it seriously! Too bad for those parents whose kids get bored so easily especially when it comes to meals. Their apparent boredom often leads to hunger dissatisfaction and loss of appetite and paves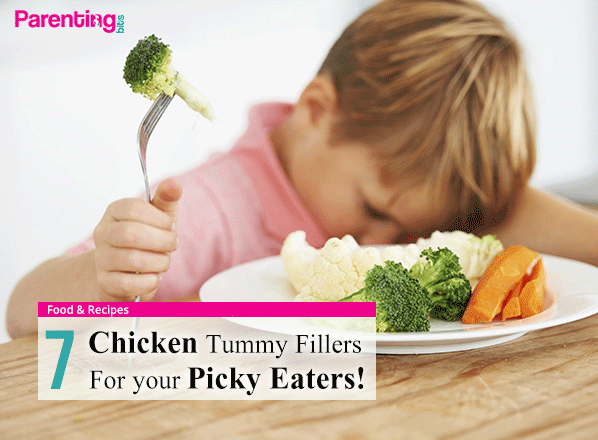 PC : scholastic
Their apparent boredom often leads to hunger dissatisfaction and loss of appetite and paves way to several long term gastral issues. Sounds scary? Well, not any more. Here is a list of 7 Chicken dishes that your kids will fall in love with in a jiffy! Chicken, high in protein will help to build up the muscle in your kid and the complimentary ingredients will make sure that your kid's taste buds are never bored!
1. Chicken and Wild Rice Soup
"This is the EASIEST soup you will ever make" claims the chef of the soup. Best to build protein with the health of chicken broth and carbs of wild rice, this soup will add to the growing bones of your kid.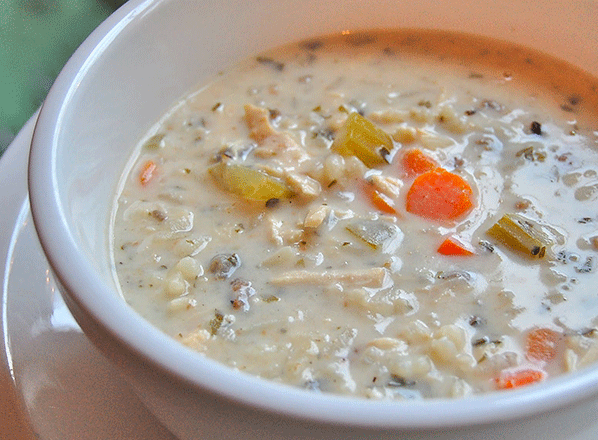 Ingredients
1 teaspoon coconut oil
1/4 cup red onion, diced
1/2 cup carrots, diced
1 teaspoon dried marjoram
2 tablespoons flour
1 package Near East Long Grain & Wild Rice with Flavor Packet
4 cups low sodium chicken broth
3 cups water
3/4 cup heavy cream
1/4 cup milk
1 cup cooked and shredded chicken
salt, to taste
1/4 teaspoon black pepper
Instructions
Cook onion and carrots until they soften in heated coconut oil. Season it further with dried marjoram, flour and rice seasonings.
Add rice, chicken broth, and water; bring to a boil. Cover, lower to a simmer, and let cook for 15 minutes.
Heat heavy cream and milk in a small saucepan over low heat. add the soup and the shredded chicken.
Cook about 30 minutes or until the rice is cooked. Season with salt and pepper to taste.
2. Chicken with Creamy Garlic Sauce
This one here is a tummy filler! Healthy chicken pieces put together with garlic sauce is what your weeknight cranky kids need to lighten up their spirits as they go to bed with a content tummy and a happy smile! The tangy garlic will blend with the soft chicken and elevates the experience of eating it!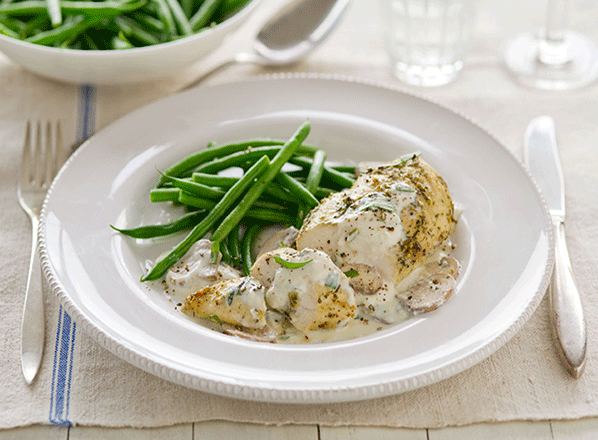 INGREDIENTS
4 boneless skinless chicken breasts
½ cup half-and-half -OR- light cream
1 – 1½ cups Italian flavor bread crumbs
2 tbs olive oil (divided)
Sauce:
2 tbs butter
2 tbs finely minced garlic
2 tbs flour
½ cup chicken stock
1 cup cream (heavy cream preferred)
¼ cup grated Parmesan cheese
2 oz softened cream cheese
1 tsp salt
¼ tsp white pepper
INSTRUCTIONS
Using a meat mallet (smooth side), pound each breast between sheets of plastic wrap or wax paper to ¼-inch thickness. Cut it into pieces.
Heat a large skillet over medium heat; add 1 tbs of the olive oil.
Dip each piece of chicken in the cream, letting excess cream drip off, then dredge in the Italian bread crumbs.
Place chicken in hot skillet cook until browning.
Place chicken on a platter, cover and keep warm in a 200 degree F oven.
Melt the butter over medium heat and add the garlic.
Cook garlic until it becomes fragrant–about 3-5 minutes–don't let it brown!
Add the flour and blend well for a minute
Slowly add the chicken stock stirring constantly until there are no lumps.
Slowly blend in the cream then add the salt and pepper. Cook for about 5 minutes.
Add the Parmesan and cream cheese and stir until the cream cheese melts and blends into the sauce.
Pour sauce over chicken and serve immediately.
Serves 4 hearty appetites, 8 light appetites
3. Baked Chicken Pasta
This penne pasta dish will pamper your kids with ample of cream, cheese and chicken with a dash of vegies hidden underneath! Add whatever you can, broccoli florets, greens, eggplant and what not! Serve hot and send them to bed!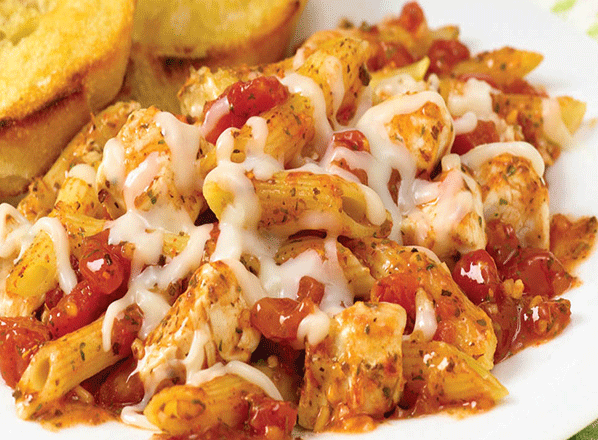 INGREDIENTS
500g of chicken breast
200g of cooked penne pasta
250g of butternut pumpkin, peeled and cut into cubes
150g of peas
70g of broccoli florets
300ml of tomato pasta sauce
40g of grated cheddar cheese
Instructions
Grill the chicken for 7 minutes on each side. Leave it aside to cool.
When the chicken has cooled, chop the chicken coarsely.
In a saucepan, cook pumpkin for 10 minutes. Then add broccoli and peas and cook for another 2 minutes.
Preheat the oven to 180 degrees for 3 minutes.
Combine pasta, chicken, and the pumpkin for the mixture and divide the mixture among into 4 ovenproof dishes. Sprinkle cheddar cheese over it and bake until the cheese melts.
4. Chicken Teriyaki
This dish is SIMPLE in capital letters. All you need to do is find a teriyaki sauce in your nearby hyper markets or find it on big basket or any other online forum. Sautee chicken pieces in a pan and add the teriyaki sauce. Bring it to simmer as the sauce thickens and you are good to go!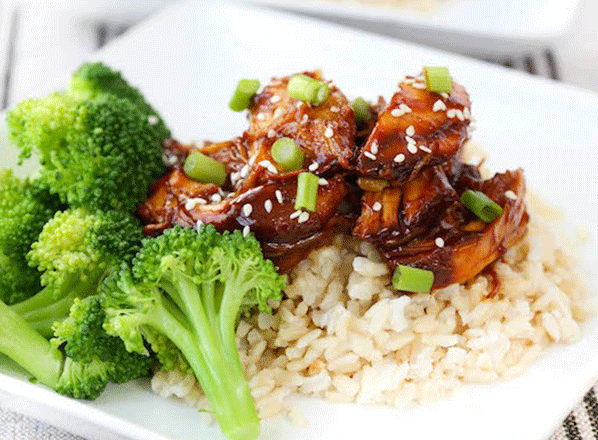 Ingredients
1 lb skinless boneless chicken breast or chicken thighs
¼ cup soy sauce
¼ cup mirin
¼ cup brown sugar
2 tbsp white vinegar
1 tbsp oil
½ tbsp cornstarch
Instructions
Make teriyaki sauce out of soy sauce, brown sugar, mirin and vinegar. Add half to the chicken pieces and let it marinade for 30 minutes.
Heat the oil in a non-stick frying pan. Put the chicken pieces on the frying pan and cook for 5 minutes or until cooked through (no longer pink in center).
Mix the remaining teryaki sauce with the cornstarch. Add this sauce to the frying pan and mix with the chicken. Keep stirring for 2 minutes, or until the sauce has thickened.
5. Chicken and Noodles Soup
A dish with two favourite things your kid will devour! Find chicken soup recipes and add a dash of noodles into it. Can be done in pressure cookers and ovens. This way, one can escape the chemicals in packed noodles and have a safe yet happy tummy ensured for your kids!
Ingredients
2 tablespoons unsalted butter
1 cup sliced carrots
½ cup sliced celery
½ cup diced onion
8 cups low-sodium chicken broth
2 chicken breasts, cooked and shredded (I use this recipe)
3 cups egg noodles
½ teaspoon dry basil
½ teaspoon dry oregano
½ teaspoon salt
¼ teaspoon garlic powder
¼ teaspoon black pepper
Instructions
Melt butter, add the carrots, celery, and onion and cook until just tender, about 5 minutes. Add the chicken broth, shredded chicken, noodles, basil, oregano, salt, garlic powder, and pepper and stir to combine. Bring to a boil, then reduce heat and simmer for 20-25 minutes before serving.
6. Honey Soy Chicken
Yet another nutrient filled chicken dish to support your kid's growing muscles with its protein! This is just another chicken drumsticks dish that you can bake or skillet fry, the only difference being the marinade which will have honey, soy and lemon juice. The marinade will ensure a blast of flavours on your tongue with every bite thus making dinner all together exciting.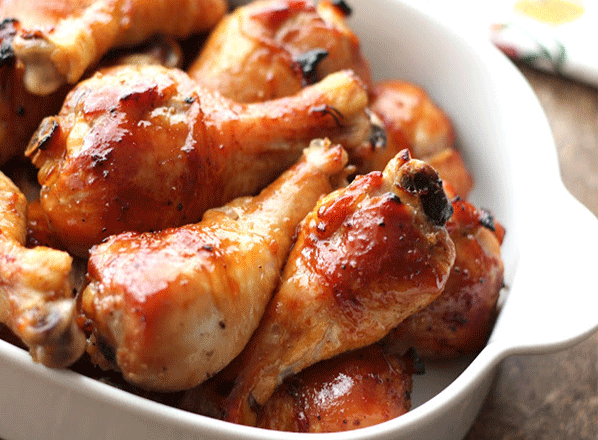 Ingredients
125ml light soy sauce
80ml honey
1 lemon, juiced
1 garlic clove, crushed
12 chicken drumsticks
Instructions
Preheat the oven to 180 degrees.
add honey, soy sauce, and garlic and lemon juice in a bowl and mix well.
Cook the marinated drumsticks for over 45 minutes while covered by a aluminium foil. Make sure you turn the drumstick and baste it with the marinade every 15 minutes.
Remove from the oven, drain off the excess marinade and serve.
7. Chicken and Mushrooms
A classic curry I used to love as a kid! It is not a widely-tried variation but a gob smacker if tried. The idea of chicken and mushroom might sound like two different poles but this dish is a perfect harmony of them both. Start off with a basic marinated chicken glazing, glaze mushrooms with mustard, put them together cook for a while, add your usual seasonings and TADAA!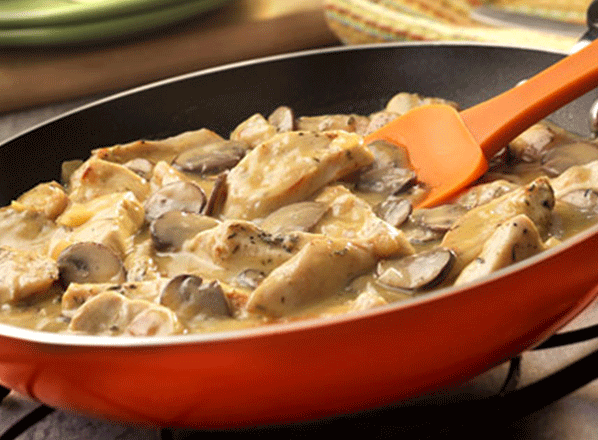 Ingredients
4 boneless, skinless chicken breasts, thinly sliced
2 Tablespoons Olive oil
Salt Pepper
8 ounces sliced mushrooms
Creamy Parmesan Garlic Sauce:
¼ cup butter
2 garlic cloves, minced
1 tablespoon flour
½ cup chicken broth
1 cup heavy cream or half and half
½ cup grated parmesan cheese
½ teaspoon garlic powder
¼ teaspoon pepper
½ teaspoon salt
1 cup spinach, chopped
Instructions
Cook chicken in olive oil for 3-5 minutes until it turns brown and no long pink in the centre and set aside. Cook mushrooms until tender and set aside.
For the sauce, melt butter add garlic. Whisk in the flour until it thickens. Whisk in chicken broth, heavy cream, parmesan cheese, garlic powder, pepper and salt. Add the spinach and cook I low flame until it starts to thicken and spinach wilts. Add the chicken and, mushrooms back to the sauce and serve over pasta is desired.