18 DIY Party Games for Your 'Spooktacular" Halloween!
As the nights get longer, chilly winds blow and the moon is waning, you've guessed it right, Halloween's right round the corner! As everyone is scampering about to select their scary costume for the night, we've got a party to plan. Here are few DIY Halloween themed party game ideas to make the night memorable for everyone.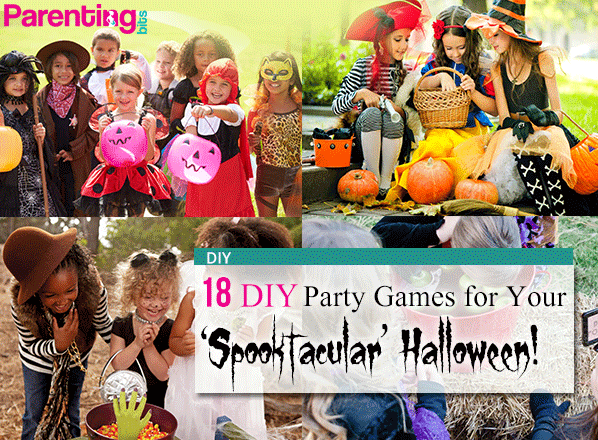 1. Haunted House Treasure Hunt
What's a Halloween without a haunted house? You can deck up the house to give the ambience of a haunted house, along with the scary music and the props. You can set a treasure map in the likes of the Marauder's Map from Harry Potter. To give an appearance of an old parchment, you can stain the paper with coffee and when it dries up, wrinkle it up a bit and tear a bit the edges and sides to give that ragged look. The next stop shall be discovered by solving the clue. The final treasure can be enclosed in a treasure chest filled with candies galore!
2. Pinata
If yours is an outdoor based party, there will be plenty of room to take a swing or two at the piñata. You can model the papier mâché doll based on any Halloween figures such as a giant pumpkin, a scary white ghost or the great Dracula enclosed in the coffin. Let your imagination run free while making the piñata. Paint the piñata in suitable colors. Take a step back and watch your kid have fun while taking a swing at it.  Just don't forget to fill the piñata with loads of candies!
3. Passing the Parcel
This is a classic game played at kids' parties. Gather all the kids to be seated in a circle. The kids keep passing about the parcel, which can be shaped as a pumpkin, a treasure chest or witch's broom! When the music stops playing, the kid caught has to play out the penalty described by a card. It can be anything from howling like a wolf or a witch's cackle. You can place the penalty cards in a pot which could be witch's cauldron. You can decorate the pot and place little LED lights in it, to give an appearance of a potion brewing. You can also use a witch's hat to store the penalty cards.
4. Ring Toss
You can set up a cardboard base and place cylindrical objects at the rings will be thrown at. The cylinders can be decorated as the witch's broom or hat or a wizard's wand. The rings can be decorated as a halo or a yummy donut. You can decide the prizes for each row of cylinders.
5. Pop the balloons
Let the little ones take a hit at the scary ghost and bring him down. This event is best suited for outdoors. The target can be a ghost or Jack-o-Lantern. If it's a ghost, the base cardboard can be painted white and be covered with white balloons. Have fun watching them be little 'ghostbursters'!
6. Mummy Really
This is the most easy and fun game that almost anyone, at any point with any budget can organise. All you need is paper towel rolls. Make teams of two where one would pose as the mummy and one would wrap the paper towel around the mummy. The game can end at the fastest team first or you could tweak it up with a second segment, having a race of all the mummies.
SUPPLIES
LOTS AND LOTS OF PAPER TOWELS OR TOILET ROLLS
7. Trick Or Treat Balloon Pop
This is a fun way to engage kids to do fun tricks and also win occasional treats as rewards. One can put bits of papers in several deflated balloons with treats like toffees, candy corn, cupcakes and tricks like pretend to fly on a broom, sing like an elephant etc written on them. Every kid can choose on balloon, blow it and then should pop it. He or she should then perform the trick that pops out or pick the treat. Make sure you have more tricks than treats to make the game more fun!
SUPPLIES
BALLOONS
PIECES OF PAPER
TREATS!
8. ZOMBIE WALK
Who wouldn't love to walk in a limp like a zombie and crack up squeals! You can up that fun by adding an obstacle race to that. Take any household items, give them a spooky touch and arrange them in an obstacle race course manner. The main rule is the kids should walk about them like a zombie or like a ghost. Let the theatrics get brownie points!
SUPPLIES
TO CREATE OBSTACLES- PUMPKINS, SODA BOTTLES, WITCH HATS AND ANYTHING UNDER THE SUN!
9. GHOST BOWLING
Another simple yet classic game to construct and play. This is one game where one could record points therefore bring competition into place. All you have to do is stack up paper cups with spooky ghosts drawn on them like a pyramid. Make the toddlers stand at a distance and ask them to roll the ball at the "ghosts" and "defeat" them!
SUPPLIES
ATLEAST 6 PAPER CUPS
BLACK MARKER PEN TO DRAW THE GHOSTS
A SOFT BALL
10. WITCH PITCH
This is more of a "throw the ring" sort of a game. It will include physical activity and is also very engaging if I might add. Make a large 2D witches hat out of black chart paper and stick paper cups equidistantly. Ask the kids to pick up candy and throw them into these paper cups. By the end of their turn, the kid can take the candy that he successfully threw into the paper cup! Quite a win-win situation isn't it?
SUPPLIES
BLACK CHART PAPER FOR THE HAT
PAPER CUPS
CANDY! LOTS OF IT!
11. PUMPKIN HOCKEY
You have a large garden that you would want to fill with buzzling physical activity, adrenalin, fun and frolic? This is the BEST game for you! You could have a hockey based game where you can roll numerous pumpkins on the floor and place each basket for each player. Within a stipulated time, each player should manoeuvre as many pumpkins as they can with a broom stick!
SUPPLIES
PUMPKINS
BASKETS
BROOM STICKS
12. SKELETON SCAVANGER HUNT
Treasure hunt with a spooky twist to it! Who wouldn't like it! To develop some team work for the evening, this will be a team game. All you need to do is make cardboard skeletons in different pieces, i.e. the head, the torso, the two legs and two hands are all different pieces. Each set of skeleton pieces should be of the same colour so that one team could identify pieces of the same colour. Hide them well and as the time starts, each teams should split up, find the pieces and put them together to form a skeleton. The fastest formed skeleton's team wins!
SUPPLIES
CARDBOARD, WHERE YOU CAN DRAW THE DIFFERENT PARTS OF THE SKELETON AND CUT THEM.
PAINT, TO PAINT ONE SET OF SKELETON PIECES IN ONE COLOUR.
13. FEED THE MONSTER
The classic aim and shoot spruced up with a monster in the backdrop. Make a box with a gaping hole being the monsters mouth. Detail the box to look spooky. Make sure you play this towards the end of the day so that you could ask the kids to shoot in some of the candy that they had earned while playing and what they had thrown into the monster's mouth could be given to charity!
14. A MOUTH FULL OF DIRT
Halloween is never complete without some gore and gross and "EWWW" and "YUCK" squeals! Here is a perfect game for that. The objective is to dig through dirt to find nasty worms, beetles and everything that creeps them out with the help of a spoon. Our substitutes for the mud is mashed oreo and other cookies, for the nasty inner stuff one can use gummy worms, gummy beetles and corn candy. The kids should hold a spoon in their mouth dig the mud to find these disgusting but tasty treats!
SUPPLIES
OREOS AND COOKIES TO MAKE THE MUD
GUMMY SNAKES, WORMS, BEETLES ETC.
SPOONS
EMPTY ICE CREAM TUBS TO POUR IN THE INGREDIENTS.
15. The Tin Can Roll
Get all the empty cans rolling around in your house. Clean them and paint them as ghosts. Make different sinister looking faces, you can take the help of your kids, let their creativity soar high. After you are done with the cans, in party, place all the cans in some sequence of your choice, and let the kids roll the pumpkin, whoever makes the maximum cans roll down becomes the winner. Also you can keep some candies as reward. It is always a win-win situation.
16. The Pumpkin Tic-Tac-Toe
This game is super easy to execute and equally exciting to play. Take all the kids outdoor, set up an environment with lit candles and all ghastly things, meanwhile on the grass, using a white rope make a criss-cross pattern as it is done in the game of Tic-Tac-Toe. Now instead of using usual pen and paper, make use of Pumpkins, carve them and let the children use them for the game. You can paint one type of Pumpkins either black or white to make a distinction.
17. The Witch's Cap
It's a very interesting game for all the kids of all the age group. Make use of black chart paper and make a witch's hat out of it. Don't you remember the Sorting Hat of Harry Potter, yes, yes the same hat, and make a similar hat using a black chart paper. Let the kids make rings using the cardboard, paint them white. Now from a distance make the kids try to put rings in different hats which have different points to it. The kid with maximum points wins.
18. Toss a Pumpkin
This is another outdoor fun game your kids will love to play. Draw a huge ghostly figure on the cardboard, and cut it out, make the ghost look as spooky and Spine tingling as possible. Cut the mouth area of the ghost, and then prepare balloons filled with flour. Make the kids toss the balloon through the ghost's mouth. Whoever gets the maximum balloons through it, wins!
Happy Halloween!
Let the ghosts in you come out and party.